Single Zone Mainframe Controller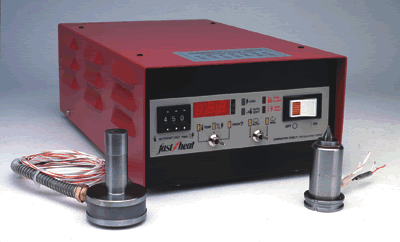 Standard single zone configuration : 6 foot #16/3 type SO power input cord, mating heater connector and a mating thermocouple connector. Available in 120 or 240 VAC, 50/60HZ. Standard setup for type J t/c input (deg. F calibration) with a +/- 25°F (+/- 15°C ) alarm window.

Features:
Diagnostics
Auto-Soft
Unlike other controllers, the Conductor Series uses an "as needed" warm-up mode (Auto-Soft) which detects the amount of ground fault present on each heater zone. If excessive moisture is detected in your heaters and the chances of them failing are high, Auto-Soft senses the amount of leakage and safely bakes them out. In order for the feature to safely protect against a heater failing, Auto-Soft secures its' operation by not allowing the operator to bypass it.
Thermocouple Assurance
Each thermocouple is backed up by circuitry which senses and compensates for a t/c failure. The Conductor Series module remembers the last average power setting and maintains the temperature for the duration of a production run.
---
OMNI part # KS010009
Description: 15 amp, °F calibration, no alarm output
Heater cables (10ft.) are available.
To order use OMNI part # KC 35550. Included connectors on each end.

---