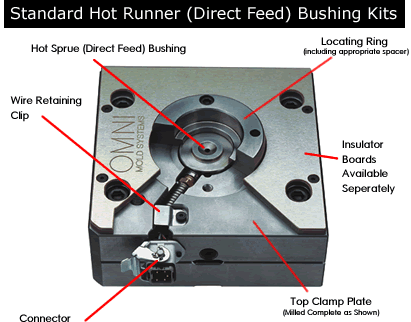 Hot Runner Bushing Kits are available to fit all of our two plate molds.

These kits include the Hot Runner (Direct Feed) Bushing, Connector, Wire Retaining Clip, Locating Ring ( including the appropriate spacer) & Top Clamp Plate (Top Clamp id fully machined with Sprue and wire channel Geometry).
Features & Benefits:
Means extended heater life.
Means less down time due to tip repair.
The New Precision II Hot Runner bushing is designed to run mid-sized molded parts where a medium pitch is required. Advanced heat transfer technology provides optimum performance. The special tip design allows for the Precision II to process commodity, engineering and filled resins while drastically reducing tip wear at the gate.
Contact OMNI for more information on Hot Runner >>>

---
Hot Runner (Direct Feed) Bushings are also available individually.